Cancer Benefit and Community Health Fair
Join Dr. William Hunter and staff as they participate in the Gaston County Walk for Wellness at Gaston Christian School on the 26th of June. Supporting the fighters, admiring the survivors, and honoring the taken. As an annual event, the Walk for Wellness to benefit Cancer Services of Gaston County, but the overall mental and physical health of their participants.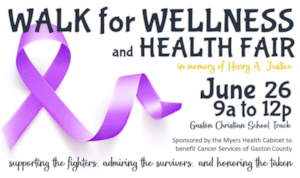 Dr. Hunter has been a long-time supporter of Cancer Services of Gaston County. Cancer Services aids clients within the community with education and support for cancer patients, family members, as well as caregivers.
The fair is free to participate! Invite your friends, neighbors, family members, and bring your pets. Enjoy a morning walk to benefit cancer, and invite your friends and family to sponsor a donation or make a contribution in memory of a loved one. Music and refreshments are provided. Come join us for a fun Saturday morning 9am - 12pm, June 26, 2021.