Dr. William Hunter is a board-certified neurosurgeon with more than a decade of experience. A respected lecturer and teacher at Duke University, Dr. Hunter travels across the country to teach about minimally invasive techniques. He received his undergraduate degree in biology from Denison University in Ohio, obtained a master's degree in physiology and biophysics from Georgetown University and attended Georgetown Medical School, where he completed his residency. Dr. Hunter joined the University of Wisconsin as an assistant professor, where he trained neurosurgery residents and medical students in treatments for brain and spine diseases. Two years later, Dr. Hunter left the University of Wisconsin to pursue his career as a spine surgeon in a private practice.
Dr. Hunter's involvement in the spinal program at Gaston Memorial Hospital has brought new and innovative microsurgical techniques to the hospital and his patients. Gaston Memorial was recently awarded "Best Hospital in North Carolina," in addition to having a leading spine program.
Providing quality care is Dr. Hunter's main concern. He is very passionate about what he does. Dr. Hunter was board-certified in 2001 with the American Board of Neurological Surgeons.
State of the Art Facilities: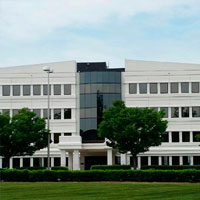 CaroMont Health, a 435 bed not-for-profit hospital, is a regional health system that provides innovative medical and wellness services. The hospitals vast network of physician practices, urgent care, hospice and emergency facilities provides excellent care for Gaston County, NC. Caromont Health is a nationally recognized leader and trusted partner in the community. Striving to provide excellent care and promoting individual health throughout the community. As a leading healthcare provider, the hospital is equipped with some of the region's most advanced medical technology.