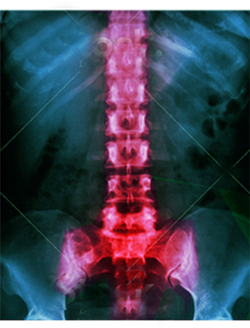 Conservative treatment options may include over-the-counter and prescription medication, physical therapy and restricted physical activity.
For those who need more invasive treatments, surgery may be possible. Treatment for spondylosis depends on the degree of your signs and symptoms. Essentially, the goal of treatment is to relieve pain, help you maintain your usual activities as much as possible, and prevent permanent injury to the spinal cord and nerves.
Treatments to Consider:
Anterior cervical discectomy and fusion (ACDF)
Transforaminal lumbar interbody fusion (TLIF)
Lateral lumbar interbody fusion
Spinal Fusion
Decompression laminectomy surgery:

This is the most common surgical treatment for lumbar

stenosis

; it involves removing the bone or ligaments that are pressing on the spinal cord and/or nerves. A surgical procedure removes a portion of the vertebral bone, called the lamina, to widen the spinal canal; this creates more space for the formerly compressed spinal nerves.





This can be accomplished by many different approaches – standard

laminectomy

, microsurgery

laminectomy

, decompression with possibly a lateral fusion (with no screws and rods),

interlaminar

lumbar

interbody

fusion (with instrumentation), posterior decompression with fusion and instrumentation; possibly a lateral type of fusion (

XLIF

®). These different approaches correspond to the patient's examination and other abnormalities seen on MRI.





These

micro-neurosurgical

techniques are less disruptive to the body's tissues, minimizing patient discomfort and recovery time.